Postcard Index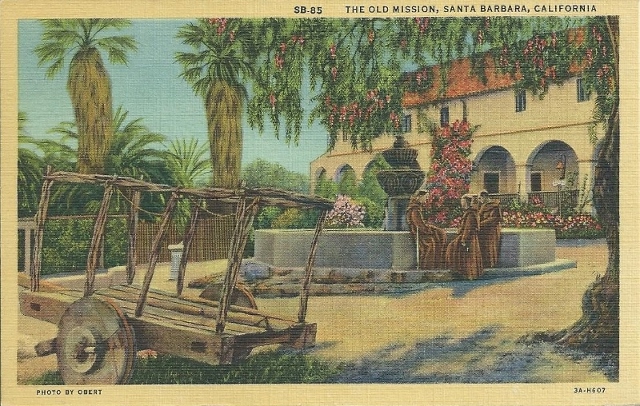 Francis and Luther Fulton (Alma's sister and brother-in-law) moved to Santa Barbara in the '20's
Valentines and Romance
Was it a pipe dream?
back - to Roy, High Valley, 1913
"Behold the Deeds we do for ladies fair"
back - to Roy, High Valley, postmarked 1914: "Doesn't this beat buckarooing and horsebreaking . ."
Did you ever feel like this before?
back to Alma Carlson, "Yes, but what's the use?"
Fishing for the lights of your eyes (no date or address)
Valentines to Carl
Christmas
Star and holly to Roy, from Bessie, undated
Bell to Roy, Ola, from Bessie, undated
Old Church to Roy, Ola, from Mae, undated
Birds to Roy, unsigned, undated
Holly and snowy cabin to Roy, Ola, from E.G.M.
Snowman to Roy from Mrs. Wheeler
Santa to Roy from H.B.
New Year's Wishes
Riders and hounds, street scene 1910 card to Roy, postmarked Twin Falls
New Year Bell to Roy, from Will
New Year pointsettia to Roy, from L. E. Wheeler
A Bright and Beautiful New Year 1915 card to Roy & Alma, from Mrs. S. A. Barnett, Eastonville, Colo.
A New Year Wish 1915, to Roy & Alma, from Evelyn Raine?
New Year wish for sunshine to D. K., from Merle
Photo Postcards
Canadian Ferry a mystery - (circa 1879?)
Aroostock War Blockhouse, Maine
Thunder Mountain Stage to Alma Carlson, Ola, High Valley, no postmark (note: somewhere I've read that for short distances a card could be handed to the carrier??)
McCall and Payette Lake to Alma Carlson, High Valley from Ruth Fulton (later Manis), between 1904 & 1915
McCall Freighting
State Penitentiary to Roy, High Valley, from Bessie, invitation to a leap year party (1908)
1909 Alaska-Yukon-Pacific Exposition, Seattle
Traction Engine and Train employed by the Twin Falls & Salmon River Land and Water Co. . . (circa 1910)
Imperial Hotel, Portland, 1913, to Mrs. J. F. Carlson, Ola
Better late than never, to Roy, 1914
Boston Library Delivery Room, to Alma, from Kathleen?
USS Surveyor
General
Making Hay, to Roy from B.Mc. 1907
A Dog's a Dog . . to Alma Carlson, from unknown, Sep 28 1910, telling news of a new neighbor, Mr. Dyke . . .
Raising Hogs in the West to Roy, High Valley, postmarked Caldwell, Feb. 26, 1912
Love Scorns All Bars, 1914, to Roy, presumably from his brother Jim
Fishing is enjoyed by both sexes.
Firelight Fancies
May nothing cut our friendship
Leap Year
Leap Year Dream to Roy, High Valley, postmarked Twin Falls, Aug. 2, 1912
Easter
blue Easter egg to Roy, Ola, no date
Cross on silver foil to Roy, Ola, no date, from Bessie
Easter Cheer, birds in car to Roy, Ola, 1908
Easter Greetings, with rabbits to Roy, Ola, 1911, from Bessie
A Joyful Easter, with purple pansies to Roy, High Valley, Boise Co., 1912, from Dorothy, Harley & Sadie
Easter Greetings with lilies of the valley, cross birthday greetings from Auntie, 1916
". . .Beauty of Thy Earth; the wonder of Eternity " to Roy, High Valley, Mar 13, 1916
Birthday
to Alma Carlson, 1912 since this card is postmarked August and Alma's birthday was in May, the card seems to have been used as a "sorry we missed you" card.
to D. K. McConnel, 1919
Updated 11 February 2018
Copyright © 2009 - Sharon Ann McConnel. All Rights Reserved.
Cultivators of the earth are the most valuable citizens. - Thomas Jefferson