Roy McConnel and Alma Carlson McConnel
The Early Years
Roy Curtis McConnel was born June 10, 1881, at Dixie, west of Caldwell and south of the present-day town of Notus. He was the sixth son born to Benjamin and Elizabeth McConnel, who came west by rail and wagon in 1869. The year after Roy's birth, they sold the Dixie homestead and moved to the mouth of the Boise River, south of old Fort Boise. When Roy was ten the family moved to High Valley where they lived for six years before moving to Boise. Benjamin was a stockman. Nellie Ireton Mills in "All Along the River" tells us that Long Valley was used for summer range by Valley stockmen, so it is possible Benjamin's early High Valley holdings were for that purpose.
The first of June 1900, the census taker found the family back in High Valley in a household headed by Roy's older brother Walter and next door to bachelor brothers Charles and Harlan. Walter and Harlan were the first of Roy's brothers to be granted homestead patents. High Valley map
Emmett Index newspaper articles starting in the spring of 1902 give the route of the Main Thunder Mountain Wagon Road as running from Emmett to Dry Buck into High Valley then down the old wagon road to Smith's Ferry, then on up to Big Creek or Clear Creek.
Jamie Chilcott, daughter of early-day Pinehurst postmistress and Sweet historian, tells of continuous travel on this route during the Thunder Mountain Rush.
Harry McConnel writes:
During the construction of the first, or original, wagon road up the North Fork of the Payette the McConnel brothers had a meat contract for construction crews. This consisted of some three or four carcasses a week, which they took over the hill with pack horses.
Roy packed into Thunder Mountain for two or three summers. He packed the idler wheel into the Sunnyside and the first telephones into Thunder Mountain -- four into one box on one side and a large, counter size coffee mill on the other side - 15 miles the other side of Roosevelt. It took about two weeks. He also packed in a placer miner outfit. They went in over the snow, over the "white pass" (probably Chilocott Pass on the McClure Trail.) When they came out they turned the horses out to green grass below. Faith Turner in an article on Thunder Mountain the winter 1954 "Scenic Idaho" lists several freighters. The well-known Spanish arriero Jesus "Kosuth" Urquides, Billy McClure, James Jewell, Johnny Scanlon of Garden Valley, Bill Hendrix and D. R. Miller were a few that she mentioned that freighted the supplies on which the isolated camp depended. Urquides was counted on the 1900 census in Atlanta with seven other men who were listed as "partners" so I suspect packing was often done on a partnership basis rather than an employer/employee basis.
Roy also worked in northern Idaho during the harvest. He helped build his parents' Boise home. He worked in Boise on the New York Canal. He ran Smith's Ferry for a couple of summers. He logged and he farmed and he punched cows for neighboring ranchers.
We do not know when Roy met Alma, daughter of John and Celeste Carlson. Carlsons had moved to High Valley about 1906 when they bought the relinquishment papers on a ranch for $50. There was a 12' x 14' cabin on the property and John added onto it. The Carlson ranch became the stage stop between Ola and Smith's Ferry. In a 1911 photograph the sign reads "Jno. Carlson's Wood Side Home." Alma graduated from grade school in High Valley about 1908. (graduation picture) But we do know it was "love at first sight" when teenage Alma first met Roy, in spite of the age difference. She painted his white collie green to get his attention. February 1914 John Carlson received the homestead patent on 160 acres in Section 31. (see High Valley map) When it came time for him to file the final papers on the ranch, John, who did not like to ride horseback, walked to Idaho City, then the county seat.
In May 1910, at census time, Roy, still a bachelor at age 29, was living with his brother Jim and his family. His son Bill told the following story:
Dad was helping Uncle Jim roof a wood shed in High Valley during their homesteading days. It was early fall and they spied an bear, about a yearling, meandering through the field of oats in a nearby field. Now being somewhat bored by the tedious work Dad decided to have some fun. He got his saddle horse and, as he was pretty good with a rope as a young man, he headed for the bear. He was successful in his endeavors and got the rope on the bear but by that time the horse began to realize what was going on and started to buck. He wanted very badly to distance himself and his rider and from the bear. The harder the horse tried to leave the tighter the rope got on the saddle horn, and Dad, trying desperately to stay aboard, wasn't having much luck releasing the rope. He was finally able to release the bear, which headed on a bee-line for the timber with the rope still attached and Dad was finally able to get the horse calmed down enough to ride back to the job. He never said whether he got his rope back or not.
Starting Out
Roy and Alma were married on Thanksgiving Day, November 25, 1915. She was 21 and he was 34. W. O. Shields, the Methodist minister from Thunder City, performed the ceremony. On their wedding night they upset the sled on the hill between Carlsons' and Roy's home near Levi Creek (now N. Fork Little Squaw Creek)
in March 1916 Roy received the patent on his original 160 acres in the NW 1/4 of Section 1, T11N, R.2E, B.M. He lived on his homestead and raised cattle and pigs. He eventually bought the Carlson homestead and the ridge between the two properties, giving him 540 contiguous acres.
In the winter of 1916 Roy received word that his brother Arthur had died in New Meadows. The railroad grade was in, but not the track. He skied up the grade to Cascade where he rented a horse, and then went on to New Meadows.
The family moved to Eagle in the fall of 1918, where they built a house. Their second son Vernon died in Eagle as did Alma's father. By the early '20's they moved back to High Valley. Lucy Fetters, a midwife who lived on Ola Hill, between Ola and High Valley, attended Bill's delivery.
In the fall of 1929 they moved out to Montour for the winter, which they continued to do for three years. Their oldest son Carl died in Montour November, 1930, while attending high school. Third son Bill started school there in 1931. Their youngest son Neal was born in Montour in 1932. During their winters in Montour, Alma formed a life-long friendship with Mrs. Harvey Pugh and her son Elwood was a boyhood hero of Bill's and it was largely his example that led Bill into law enforcement.
Bad Fire Year
In 1931 the forest fires were so bad in High Valley there were plans for evacuation. People were setting fires so as to have jobs fighting fires. The Forest Service hired armed guards, including Roy, to ride ridges as a deterrent, a job Roy soon quit. Alma and Bill went through a National Guard road block returning to the ranch after going to Smith's Ferry for mail and groceries. Martial Law was declared in August. See Valley Co. IDGenWeb.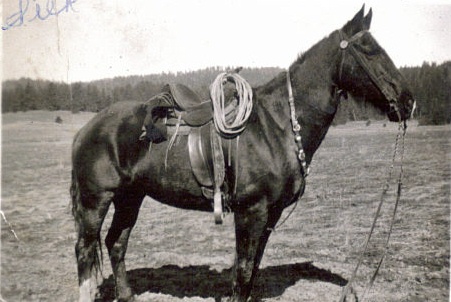 Roy's horse Silk
Ranching in High Valley
Roy shipped cream from Smith's Ferry by rail to the creamery in Cascade. Each spring Roy would buy 20 or 30 weiner pigs. They would feed the skimmed, curdled milk mixed with oats to the pigs. In the fall he would butcher half a dozen pigs, smoking the bacon and hams, selling the rest.
During the depression Roy sold or traded eggs at Smith's Ferry at the rate of 10 cents a dozen. He was pleased when he could get 11 cents a dozen. When they had the contract to deliver milk to the logging company it sold for 25 cents a gallon in bulk and 8 cents a quart to individuals. Billy's job was to deliver to various tents.
In the fall Roy and other area ranchers shipped cattle by rail from Smith's Ferry to the Portland salesyard. Roy usually had 15 or 20 head to sell. He and the other ranchers would go with the cattle. First they would gather enough area ranchers to have a carload of 30 head. Occasionally Roy had enough for a carload by himself. They'd go to Nampa and then on to Portland, stopping at Huntington and Pendleton to water the stock. At that time each railhead in the northwest had cattle pens. The ranchers would ride in the caboose with the rail crew.
If wintering the cattle in Montour, they trailed the cattle from High Valley to Montour down Holbrook Road, covering the 30-mile distance in two days, spending the night at the Ed Beal place at the foot of the hill.
Alma "home schooled" Billy his second grade, in High Valley. The following year Alma and Roy had two foster children from the Boise Children's Home. Mrs. Ida Belle Bechtal, the teacher, also took one foster child, who, together with her son, gave the school the required five students necessary to hold school in High Valley. Howard, one of Alma's and Roy's foster boys, lived with them until he joined the Navy in 1943. Roy and Alma provided foster care for several boys over the years. Roy served on the school board for ten years. Roy's and Alma's son Neal and his wife also raised foster children.
High Valley summers often filled the house with cousins from the "Valley." (Boise valley) Family outings included huckleberry picking at Tripod Meadows and picnicking at Warm Lake. One of Billy's daily chores was to break up the beaver dams when bring in the cows of a morning. He would ride his bicycle the seven miles to Smith Ferry for the mail.
In 1928 Alma and her Uncle George Carlson of Blackfoot received an inheritance from an uncle in Sweden. The funds were used to purchase their first car, a two door Star, built by Durant. Bill learned to drive in the Star, driving it through gates when he was six years old. The old Star eventually landed in Tripod Creek and was replaced by a Dodge pickup. Bill often told of the first time he drove to Emmett. The highway ran down the old canal bed (that diverted at the Boise/Gem county line), skirting Black Canyon Reservoir. It entered the canal bed west of Roystone Hot Springs. The old canal walls are still visible, but are often covered with graffiti.
Bill went to the High Valley School from the third to the eighth grade. Miss Johnson, the teacher, boarded with them for two years, Bill's seventh and eighth grade years. When it came time to take the state test to graduate from the eight grade she drove him and his two fellow eighth graders, Milburn Price and Arthur Deeds, to Donnelly to take the test. He attended high school in Montour, boarding with family friends. The first year he stayed with the Herbert Days in Sweet. The next three years he boarded with Gene and Polly Noland. They pastured Nolands cattle in the summer, and Nolands pastured theirs in the winter.
A dog named Shep
When the family moved to Emmett they had a dog named Shep who was about ten years old. Shep was above average. One time when they were putting up hay they decided the stack needed to be propped. They had a pole but no shovel. With a little encouragement Shep dug the hole for the hay prop. After the move, Shep returned to High Valley several times on his own. The neighbors would send word that he was there and Roy would go up and get him and return him to Emmett. He finally tangled with an electric fence and was not found again.
The Move to Emmett
In 1943, they bought a place south of Emmett and for a couple of years farmed both places. In 1945 they sold the ranch in High Valley, settling in Emmett permanently, finally settling on 40 acres on the Bench.
Roy died May 22, 1963. In his later years it was discovered that he had tuberculosis at one time. When I, his oldest grandchild, knew him, he was a kindly, hard-of-hearing man who spent a great amount of time reading the Bible and National Geographic magazines. He also enjoyed jokes. As a child I enjoyed staying overnight with them. Grandma would make popcorn and the three of us would play Chinese checkers and listen to their favorite radio programs.
After Roy's death, Alma continued to live on the farm, then eventually moved in with her son Neal and his family. She was an avid quilter, making quilts for family members and for mission projects. She died in a nursing home November 30, 1987.
*****
Album
Roy & Alma
Roy's birthday 1926
Ira Barker, Roy McConnel and John Carlson
Roy with big squash
Roy in Tall Grass
Bill and Neal, '40's
Bill, 1940's
Bill McConnel weds Caroline MacAskill, February 3, 1946
Rodney Dale McConnel (1950-1974) (son of Bill and Caroline)
Copyright © 2009 - Sharon Ann McConnel. All Rights Reserved.
Cultivators of the earth are the most valuable citizens. - Thomas Jefferson